Ellensburg, Washington (July 14, 2021) – Court Advocates for Children would like to announce the swearing-in of two new advocate volunteers. On July 8, 2021, the Honorable Judge Hooper swore in Judy Backlund and Crystal Mach.
Court Appointed Special Advocates (CASAs) a/k/a Guardians ad Litem are trained volunteers from the community, who serve as the voice of abused and neglected children who have been removed from their parents' care by order of the superior court judge.
Before they are sworn in, CASAs complete a thirty-hour core training course, spend time observing court proceedings, and prepare a practice court report. Once they are sworn in, they become officers of the court whose job it is to advocate for the best interest of the children they represent. As a volunteer CASA, they will investigate the child's circumstances and make independent recommendations to the judge about a course of action that will focus on the child's well-being. CASAs work to ensure that their medical, social, emotional, and educational needs are met. They also work to ensure that these children can maintain their connections with their families, their culture, and their community.
We are so grateful to Judy Backlund and Crystal Mach for applying to become a volunteer CASA and committing to making a real difference in the life of a child.
About Judy Backlund: Judy Backlund has a long history of teaching and advocating for children. Mrs. Backlund has lived in the valley for 40 years with her husband Phil. They have three children and six grandchildren. After being a teacher for over thirty years, Judy joined Court Advocates for Children to continue her passion for supporting and advocating for children.
About Crystal Mach: Crystal Mach is a committed caregiver both personally and professionally. Mrs. Mach works from home serving Medicare patients across Washington state. She is married and has a houseful of animals – two dogs, a cat, and lots of chickens. As a commitment to her community, Crystal joined Court Advocates to make a difference in the lives of children.
Volunteering for Court Advocates for Children: As a court-appointed special advocate (CASA) volunteer, you are advocating for abused and neglected children. These children long for a safe and loving environment. As a CASA you are empowered by the courts to help make this dream a reality. You will not only bring positive change to the lives of these vulnerable children but also their children and generations
to come. And in doing so, you will enrich your life as well. If you or someone you know is interested in volunteering for our program. Please go to http://casaprogram.org/volunteer/ to receive more information.
About Court Advocates for Children: Court Advocates for Children for Kittitas County is a 501(c)3 non-profit organization and abuse and neglected child advocacy program currently serving 56 abused, neglected, and/or abandoned children ages birth to eighteen years in Kittitas County. We provide trained independent volunteers who promote and advocate for the best interests of abused and neglected children in the justice system of Kittitas County. We envision a community that is aware of and committed to the efforts of Court Advocates to secure a safe, permanent, and loving home for abused and neglected children in Kittitas County.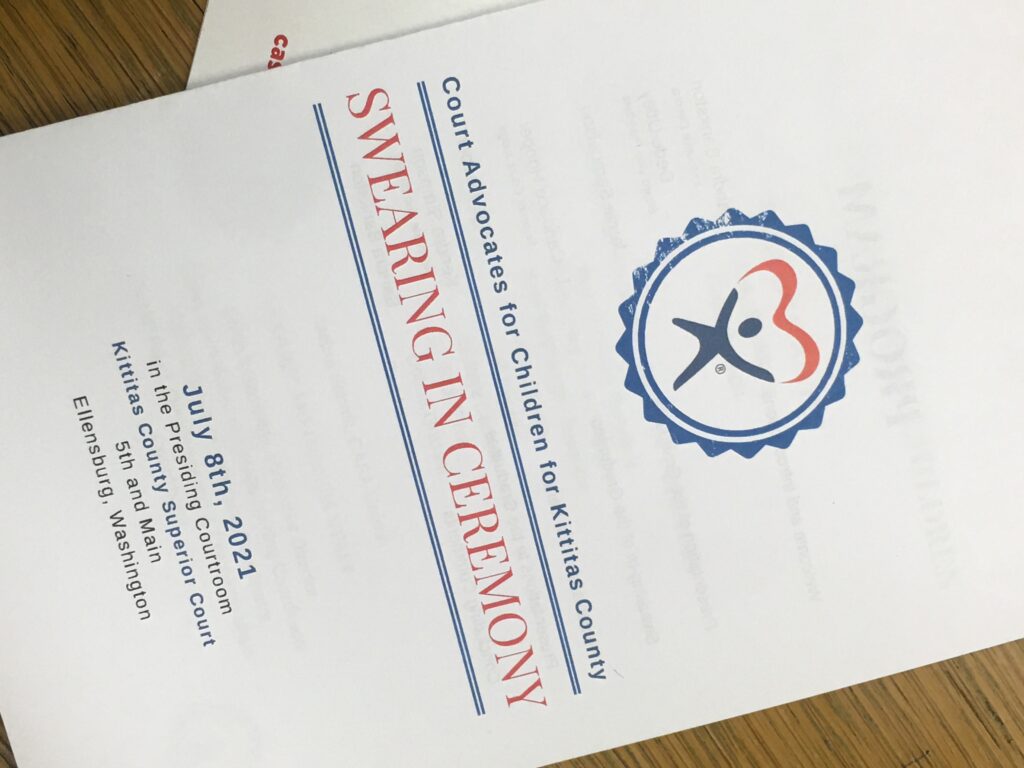 ###