In 2017, from the gentle nudge of a close friend, Debbie Schmit explored a local non-profit program, Court Advocates for Children. After learning about the program's mission and its increasing need for volunteers, Debbie signed up. Since then Debbie has advocated for more than seven children, she received the Judge Alumbaugh Volunteer of The Year award in 2019 for her "outstanding commitment and advocacy", and she currently serves as CASA Liaison.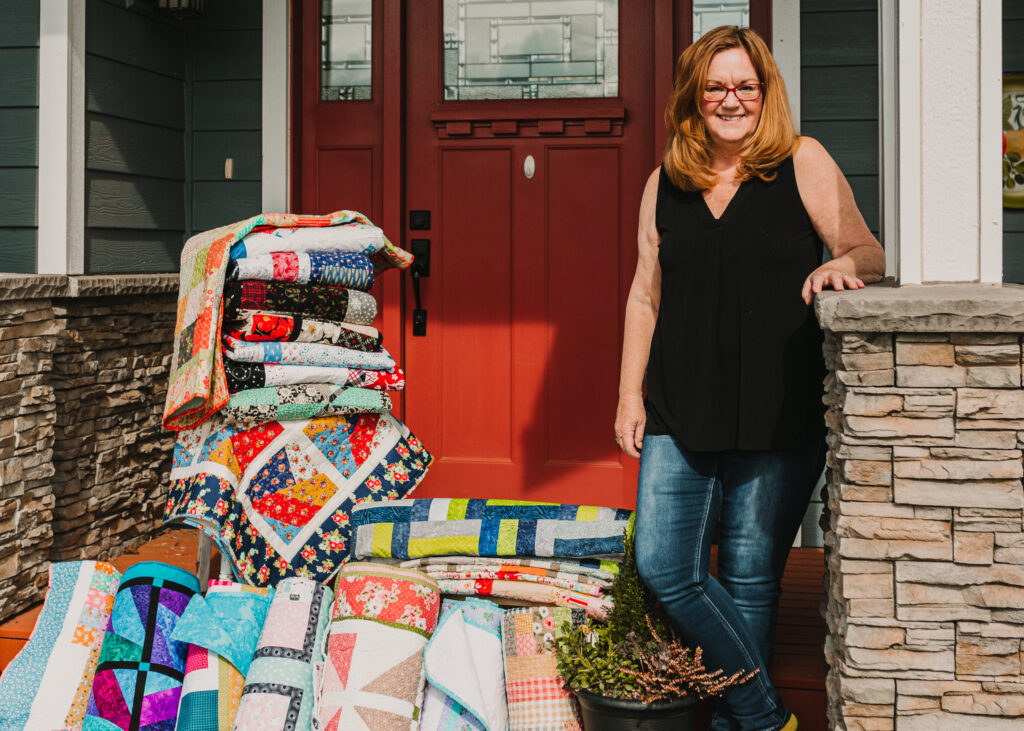 "The CASA program has become a very important part of my life." I see the need for children to have a voice at this most difficult time in their lives and know how much help is needed for these kiddos and their families. I am that voice for those children"

– DEBBIE SCHMIT
Debbie Schmit came by her love of sewing naturally. "I remember playing with the buttons in [my mother's] button jar and listening to the hum of her sewing machine as I played nearby", said Debbie as she reminisced on memories with her mom. Debbie's mother was an amazing seamstress. She made wedding dresses, baby clothes, and an occasional quilt. Over the years Debbie too enjoyed the occasional sewing activity – sewing maternity clothes for herself, or new curtains for her home.
After Debbie's children were grown and married she and her husband, John retired to a very small island while awaiting her home in Ellensburg to be built. "I had a sewing machine on the Island and a lot of time on my hands so I started sewing quilts." Her new passion of quilting had begun.
Very quickly Debbie's passion outgrew her home so her husband built her a "quilting" shed to house all her fabrics, multiple sewing machines, a cutting table, and all the "hoopla" that goes with sewing.
Over the past five years, Debbie has sewn about 200 quilts donating many to local nonprofits and sending dozens to friends and relatives serving as a warm hug at a particularly sensitive time in their lives or to mark a sweet milestone.
During National Child Abuse Prevention Month (April) Debbie has decided to stitch her two passions together and sell her quilts, "in hopes to raise money and awareness for the CASA program and spread warm hugs."